Last week, we were part of the Global Innovation Gathering GIG at re:publica, the biggest digital society conference in Europe. And it was a phantastic week filled with what we like best: meeting people, sharing experiences, building communities and starting projects!
What the hack is this GIG?
Actually, this video by Richard Schut (the man with the questionmark) sums it up real nice:
GIG with support from BMZ and GIZ offers the only opportunity (as of yet) for the people behind creative spaces and tech hubs from all over the world to come together, share, exchange and connect. GIG is a brainchild of Geraldine De Bastion - beautiful and creative connector of worlds, director of the film "Made in Africa" and a member of the AfricaHackTrip family! Thank you!
And the Global Innovation Gathering was exactly that: Over 40 people from 18 countries met, shared experiences and stories, started projects, built stuff at the Makerspace and a community of friends whereever they were. Many of the GIG 2014 were hub managers, community managers or founders of coworking spaces, but there were also the people who make the magic happen in the background, like Jörn & Tiemo from icehubs, Tayo from the AfriLabs network or Bill & Ben from VC4Africa, who connect start-ups and investors, actors and mentors. And then there were the partners, people like us or our friends over at FounderBus and GeeksGoneGlobal.
Lounge & Makerspace & Stage
After a team-building Monday, the GIG program took place in and around our very own trailer a.k.a. the Home of Awesomeness (Thanks a million, Gary!), at a Makerspace inside the big hall of re:publica, and on Stage 6 which was dedicated to GIG on the last day of re:publica.
GIZ Management Board Member Cornelia Richter opened the GIG with a brief welcome message and long discussion on possible new forms of international collaboration to better respond to global challenges.
She sat down with the audience and really listened to the comments, like Jon from The Office in Rwanda asking international donors and investors to look for opportunities they can invest in rather than problems they can solve. That's exactly what we set out to do, and we are super excited about how the discussions started will continue and shape global development cooperation.
And that was the beginning of 3 days of tinkering and talks. Among many others, Martha told the story of Nairobi Dev School, Fabian shared the experiences of the first FounderBus in Africa, and at the very end of Day 1 we told some Tales from the Road that AfricaHackTrip took in 2013 and beyond - here are our slides.
On Day 3, the GIG moved to Stage 6 and had some really inspiring sessions there. The one that moved and impressed me personally most was Bilal's talk on makerspaces in the MENA region. The projects he presents are at the intersection of coding, tinkering, art, civil society and just humanity – like this "map for your ears" of car bombs that went off in Baghdad since the Americans left or Good For the Dead, where you can commemorate loved ones by good deeds. Bilal himself and the projects he works for show how a positive attitude can change even the most negative situations and how we can create a beautiful future together.
Another favourite was the discussion of some African Webmuses – namely, Clarisse from Hehe, Nanjira from the iHub and Martha from Nairobi Dev School – pointedly called "Don't talk to Women in Tech about Women in Tech". This is a really interactive, lively and informative discussion between the panel and the audience on all the issues that women in tech have to deal with, in Africa, Germany and everywhere.
And finally, last but not least, there was me sharing the big stage with Fabian and Faruq to talk about synergies of travel and innovation, of how it takes personal contact to really meet someone and start a great project. I could kick myself, but I forgot to mention our fundraising campaign – so to make up for that, here's the link: https://www.indiegogo.com/projects/africahacktrip-the-movie Please do support us! We all need more HackTrips, so more people can experience the magic of meeting like-minded hackers, makers and world changers!
See you soon – somewhere!
And then after re:publica had ended with another party, GIG continued with a day of touring the coworking spaces of Berlin with this group of great people. But at some point, it was really over. I was exhausted and energised at the same time by all the new ideas, thoughts and people, and the experience of connectedness. That was really the greatest thing about GIG: the people. Everybody got involved, everybody was part of the organisation, brought their ideas to the table, lent a hand when needed, we all had lots of fun and enjoyed some phantastic PartyMachen – while at the same time, we could discuss serious issues and come up with creative solutions for them. It was the most positive and constructive atmosphere I have ever encountered at a conference, very much like AfricaHackTrip actually.. And like on the trip I feel like I said Hello to strangers on Monday and Good-bye to friends on Friday.
So to sum it up, I'd like to quote Victor, one of the people who founded NairobiJS during AfricaHackTrip, who said "I didn't know these people existed, and I'm so glad we met now."
EuroHackTrip! #AHT15?

Be a part of AfricaHackTrip!
For us, it feels like a circle has closed – and like a spiral, a new and bigger circle has opened up. Last year, we pitched the idea of nine hackers travelling from Europe to Africa to 10 strangers at the Global Innovation Lounge, a small stand which the organisers of re:publica had built in the middle of the buzz of this big conference. This year, we gave a talk together with our now dear friend Martha from Nairobi, and we talked with 40 friends lounging in deck chairs in the sun. How will re:publica be in 2015? I personally hope that we will share the panel with the guys from EuroHackTrip and talk to 100 people about how HackTrips are the perfect way to connect communities all over the globe.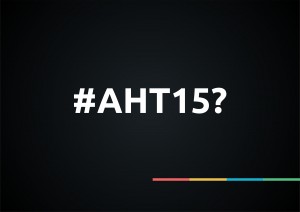 The last of our slides asks #AHT15? and we have heard some pretty good ideas already – let's talk more, everybody! Be a part of AfricaHackTrip!