Today is a big day for us: We just launched the crowdfunding campaign for our movie on Indiegogo!! W00t w00t!!
We returned from Africa with awesome new friends, lots of stories to tell, thousands of pictures, and 30 hours of video footage. We want to turn this footage into a great movie, so we can share our experiences with communities all over the world and motivate others to join the exchange between cultures. To do this, we need time and professional support.
And that's where YOU come in! Please help us raise $7,000 to cover our production costs, so we can introduce you to exciting places and awesome people.
Be a part of AfricaHackTrip! Show us and the world that you love the idea of truly connecting hacker cultures!
In return, we signify our love and gratitude to you by mentioning every single backer in the credits of our movie. Yes, even if you donate just a dollar, we will thank you in the credits. But we also prepared some perks for those that give us more money – go check them all out here!
Some picks of the perks:
For just 25 bucks, you will be able to take awesome pictures like these. And if you tweet them adding #AHT13 they will even appear on our tumblr - we are super curious to see who/what/where will be tagged with our favorite logo!
A donation of $50 will get you one of our T-Shirts, which were only given to extra special people so far. All of you are beautiful, but you could look even better in one of these…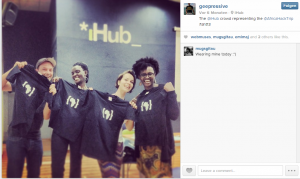 From $250 upwards, you get an invite to the premiere and also the premiere party, which will take place before we launch the movie. We plan on some serious PartyMachen! in Berlin and look forward to hosting all of you generous givers!
Those that support us with $1,000 humble us – you will from now on be known as a producer of our movie, which is the greatest gift we have to give. You also get a seat of honor at the premiere, which we will have to build once someone donates those big bucks. Challenge us!
We are very grateful for the experience AfricaHackTrip was for us. We met incredible people, learned about crazy cool projects, found out how Africans use technology to solve social problems, and brought together European and African hacking culture. And most importantly we kicked off continuous exchange – like with our friends over at Nairobi Dev School and EuroHackTrip. Please help us tell you all about it!
Thank you all for your support!!!
HighFives, Hugs and lots of <3 from
Gregor, Alex, Emi, Bumi, Basti, Martin, Vicy, Jan and Tobi